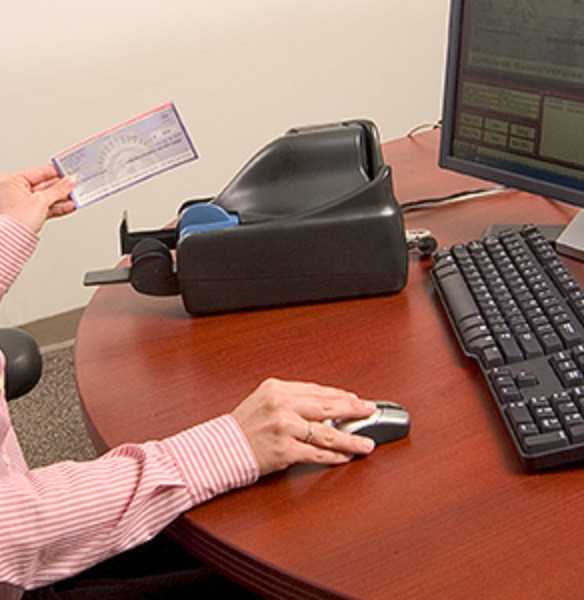 Check deposits can also be made from multiple locations!
Deposit checks electronically right from your desktop instead of making trips to your local branch. All you need is a desktop scanner connected to your PC and the Internet.
Scan Checks from Any Desktop
Scan both sides of your check in a single pass.
Prepare Deposit
View images of the scanned checks right from your PC. The dollar amounts for the checks are automatically read and the deposit is totaled.
Electronically Send Deposit to Adirondack Bank
Click and submit deposit. Deposit is sent through a secure Internet connection.
Funds Are Deposited into Your Account
Access funds sooner than traditional deposits.
Local branch will provide the scanner and training.
eDeposit FAQ
Q
How does eDeposit work?
A
Using a check scanner, you simply scan an image of both sides of the check. This image then becomes the legal equivalent of the original check, and the image is submitted to Adirondack Bank through a secure electronic server. Adirondack Bank treats this image as the legal equivalent and begins processing the check immediately.
Q
What is a substitute check?
A
Also known as an IRD (Image Replacement Document), it is a paper reproduction of the original paper check and is legally binding as a legal proof of payment.
Q
What does a substitute check contain?
A
An image of the front and back of the check.
MICR line of the original check, which includes account and routing numbers.
Conforms in paper stock, dimension, and other industry standards for images and substitute checks.
Is ready for automated processing in the same manner as the original check.
Q
Do I have to change or upgrade my computer system?
A
Each scanner will have minimum system requirements and will vary with each scanner. Each scanner will come with a driver that will need to be loaded along with a USB connection.
Q
Who will use the system? What type of training will be provided for them?
A
Individuals already in charge of manually preparing and delivering deposits are typically the main users of this automated process. A video tutorial is available for your staff.
Q
How late can I make a deposit and still receive same day credit?
A
The cut-off time for same-day credit is 5pm.
Q
What should I do with the check after I make the deposit?
A
Generally, original checks should be stored for at least 65 days before destroying. Refer to your Adirondack Bank agreement for details.
Q
How will I receive notification of an NSF?
A
Returned checks will be handled as usual with a substitute check being returned in place of the original check.
Q
Can I set-up multiple accounts for deposit?
A
Yes. Deposits can be made to any number of accounts without additional charges.
Q
How does eDeposit differ from POP or POS systems?
A
Many retailers use a POP or POS system that produces an ACH (Automated Clearing House) debit from their clients' account. This information is usually captured at the point-of-purchase and the checks are truncated. This means that an image of the check is not captured and therefore cannot be returned in the customer's financial institution statement. Some users of POP or POS systems are moving to eDeposit to reduce equipment, maintenance, and training costs.
Q
What types of checks can be processed through eDeposit?
A
U.S. dollar checks drawn on U.S. financial institutions with valid routing and transit numbers are accepted, including personal checks and business checks. We cannot accept third-party checks, foreign checks, or money orders.
Q
What security controls are provided for eDeposit?
A
As an integral part of your online account access, the same security that protects other transactions also ensures that your eDeposit information remains confidential:
We use SSL Technology to transmit and receive information across the Internet. This technology encrypts (scrambles) information so it is virtually impossible for anyone to read it.
If you forget to logout or are inactive for more than fifteen minutes, your session will automatically be closed.
We maintain numerous additional physical, electronic, and procedural safeguards to help prevent unauthorized access to your information.
We continually update and test our technology to improve these protections and to ensure the integrity of your information.
In addition, users access rights, depository restrictions, and review criteria levels are created within the administrative controls.